We're taking a vacation for the next ten days, although we're not going anywhere. Basically it's just time to spend with the girls (and each other...hey I do have a husband, I think), before school starts and the boy comes. Oh and my mommy's coming to visit. Can I say that a bit louder? MY MOMMY'S COMING!!!!!!!!!!!!!!!!!!!!!

I miss her and she's coming to visit for a week and I'm so thrilled. She'll come back in September for the baby, but I just want her to come now, so she is. Twenty-eight years old and sometimes I still need my mommy. I cannot explain how hard it is for me, her being out of the state. Although, even if I was still in LA, she'd still be out of the state, since she's taking care of my grandparents right now. I'm a mama's girl, always have been, always will be and I miss my mommy.

We're going to do things around here, see some Colorado sights and do summer Colorado things that we didn't end up getting to last year. That and get school stuff, finish getting the boy stuff, clean out the chicks clothes and name the baby. You know the normal vacation things.

The girls are excited to spend some family time together. It's been a tough year for all of us and we need some time to just be before everything changes again. The thought of sleeping in (if I can, sleeping isn't so easy these days) and staying up late thrills me. To not have to worry about work or summer camp schedules or make sure that the short people have clean socks is awesome. Stupid camp won't let the kids wear flip-flops, they must wear socks and shoes. For this reason alone, Bailey hates camp. Honestly I don't blame her, I'd hate that camp too. I mean, who wants to have to wear real shoes in summer? Thankfully, today is the last day of camp for them both, which is good, because I'm tired of the constant whining. Doesn't matter what they've done there all day, they both whine about it; about going and about having to go the next day. I'd worry, but I hear they are fine and have a blast, so I've chosen to ignore it.

Vacation starts tonight, when we all get home and ends the morning of the 12th when they go back to school. Can you believe my baby is old enough to go to pre-school? Like real pre-school? Like I have to send her to kindergarten next year. Ok, never mind that, we're not even touching that one yet.

So onto a few other things: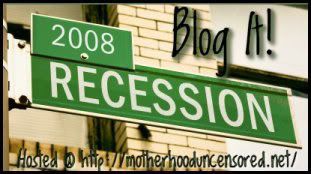 This month (August...who knew it was August, not me for sure) is Blog the Recession Month. See my pretty button on my sidebar? MotherhoodUncensored has more info if you want to check it out (please do), or add a button to your site. Basically the world sucks right now financially. I don't know a single person who has not been hit in some way lately. So the Blog Recession challenge is to click on your friends sites and maybe even leave a comment. Click, click, click; it only takes a minute. We all, me included, have come to rely on our Google readers (or whichever you use) to give us the goods on what's going on in each others lives....and it enables us to never have to click on someones site, unless we choose to read a comment. But people make money off of hits in a month and this is a great way to help them out a bit. It's only for the month of August. I doubt it's a lot of money, but dam anything helps. So please for the love of the babies click and read people, click and read. The babies thank you. Not sure which babies, although MotherhoodUncensored has a cute one (two really) and another on the way, HerBadMother has an adorable one, as does MotherGooseMouse, Chicky, Mom101 and Flybunny. (I know there are more, but I'm so tireeeeeed and that means my brain is only functioning at 32%.) Also, Mrs.Chicken and I are both having babies soon, so um....the babies thank you. Let's see what we can do to help each other out.

Name post coming tonight or tomorrow, so please come back at some point later and read it. Cause people, I need help. My husband thinks he's funny when he says he wants to name the baby Aleric. Sounds like a super hero he says. Makes me want to divorce him is all he's accomplishing really.

I'll be around while on vacation, just not all the time. Hey by the way, does anyone know how I can post a video?